So I decided to spend my hard earned money on a random expensive gadget, well aware of the lack of decent reviews of the product and the price of the sparkfun components inside.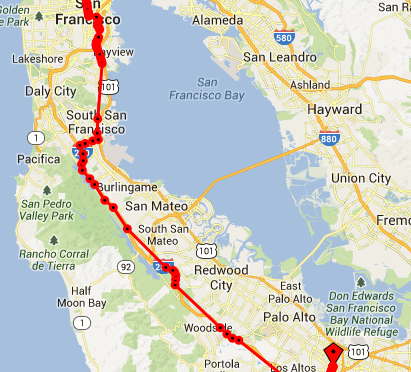 I present to you, the SpyLamp 2 ;-)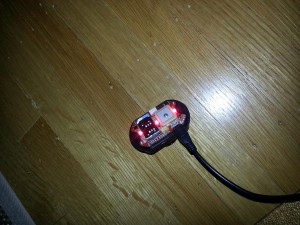 It is a bike rear lamp that has a GSM modem, an accelerometer and a GPS.
Packaging & shipping
The SpyLamp 2 is well packaged and well protected. It was decently quickly shipped from UK to the USA (2 weeks door to door).
Surprisingly the package has no manual, only an indication to find it on their website.
That's what you get: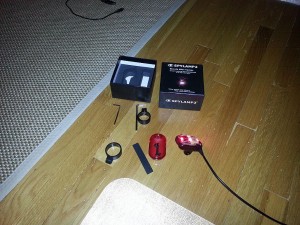 The hardware
The lamp itself appears of decent quality and seems waterproof. Waterproof, not bombproof you cyclists and your expressions! ;-)
It has 3 red LED when turned on, which offer decent lighting (at least as much as my $8 rear light, which is plenty fine). It however does not offer multiple lighting modes such as blinking. Its on or it's off, thats it.
The board inside and the soldering job are good. This won't disintegrate in your hands.
To charge, you have to plug a USB wire, but to access that plug, you have to unscrew the light's plastic glass protector. That's 2 security Torx screws (regular Torx screw driver will not work). The correct security Torx screw driver is provided, but still, this is not the most convenient way to recharge ever invented. That being said, the light works for a while so you don't need to do that very often.
The light itself can also be attached to the seatpost using a security Torx screw. This should generally bother any thief enough so that he's not going to remove the light right away. Plus it really looks like a regular light. It's heavier but you can't tell until you unscrewed it. (it's actually quite heavy, I suspect a big battery).
It also seems possible to extract the whole module and retrofit it elsewhere, such as under your seat, and use a regular light. instead. Also saves battery.. 3H or more of charge are recommended by Integrated Trackers.
The setup
The links to instructions aren't exactly advertised everywhere, anyway they're: here:
More setup tips
Send the whereareyou command until you get a real GPS lock at least once at setup time. This ensures the GPS has downloaded enough data to get "warm locks" which are much faster. If you move a thousand miles or more, you'll want to redo that, as the data depends on satellites and thus regions. It works without doing this, but in case the bike is actually stolen, this will help to get accurate data more quickly.
If the GSM modem isn't listening the SMS are queued at your carrier, so whenever the modem turns back on it's going to receive your SMS and send replies. Don't spam SMSes when its not replying, or you'll get a bunch of reply whenever it's on.
The web interface
Warning: Security state of the web interface is terrible.
So this is where stuff goes bad: http://www.integratedtrackers.com/GPSTrack/portal/tracking
The web interface lets your register, over HTTP (it's not encrypted, ever. Your password, location, everything's in plain text.)
The web interface is terribly crappy, but eventually you can get it to work. All your really need is your IMEI at this point. You don't even really need to make a login in fact.
You'll notice that if you create a new tracker (once you register) you'll get an ID. That'll tell you how many people bought a tracker (any tracker!) from Integrated Trackers. My number being in the 200?s that's not a lot of trackers sold and I'm not sure how long this company will stay alive.
There's a bunch of probably security bugs in the web interface, so you might as well consider your location data to be entirely public at this point. Note that even if that happens, you'll still get the location data through SMS as long as you want it.
However, it does work: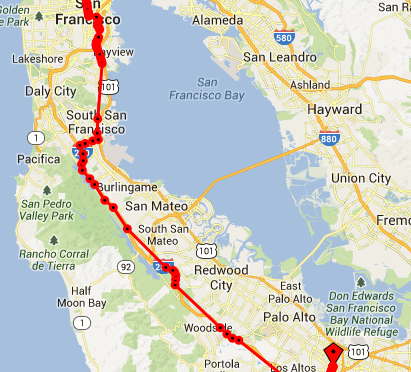 Detection weirdness
When armed, if the track moves, it flashes a small green light. It's quick and not very powerful, but if you're a thief and you know "the trackers blink green when you move it" that makes the tracker quite easy to detect.
I've no idea why they've done that (well yeah, to debug?).
Warning: Brutal honest opinion: this is plain dumb?
Bottom line
It works. Yeah really, it works. If they cared for the setup, documentation and website, they'd have sold thousands by now. But apparently, they can't be bothered. Too bad. I wouldn't be surprised if it's a single man operations, who knows electronics and some arduino programming - but not much about websites :-)
I bet someone else will create something similar eventually, some kickstarter project or what not. If you don't mind the clunky interface and setup, it's not such a bad buy. A little on the expensive side for your get, maybe.